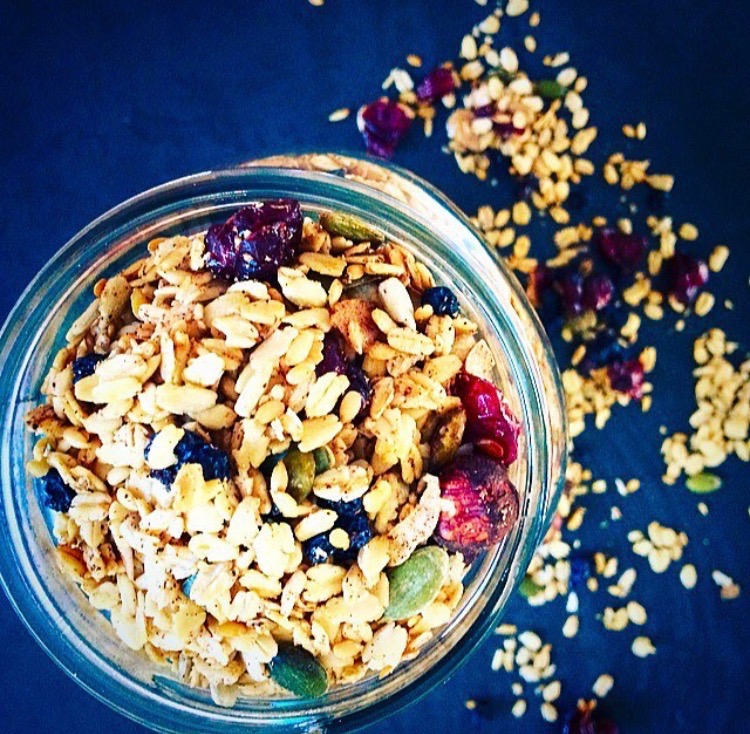 Toasted Maple Muesli
Making your own muesli is a fantastic way to have this crunchy addition in your pantry. The shop bought muesli can be very high in sugar and added colours and flavours. And the bonus of making your own is you can include all your favourite ingredients.Cook Time20 minsCourse: Breakfast Author: Alethea Mills
Equipment
Baking tray
Parchment paper
Ingredients
3 cups rolled oats
1 cup raw nuts (almonds, hazelnuts, walnuts, pecans)
40 grams coconut flakes
¾ cup seeds (linseed, sunflower, hemp, pumpkin seeds)
1 tsp your favourite spice (I chose nutmeg and cinnamon)
3 tbsp 100% pure maple syrup or raw honey
3 tbsp coconut oil
½ cup dried berries (cranberry, blackcurrant, inca berry, redcurrant)
Instructions
Preheat oven to 180C and line a baking tray with chemical free parchment paper.
Combine all dry ingredients in a mixing bowl and then add liquids and mix well.
Spread out onto baking tray and roast for 15-20 minutes, stirring every 5 minutes
Remove from oven and cool.
Add dried fruit when cool and store in glass airtight jar.
Serve with yoghurt or with coconut milk.