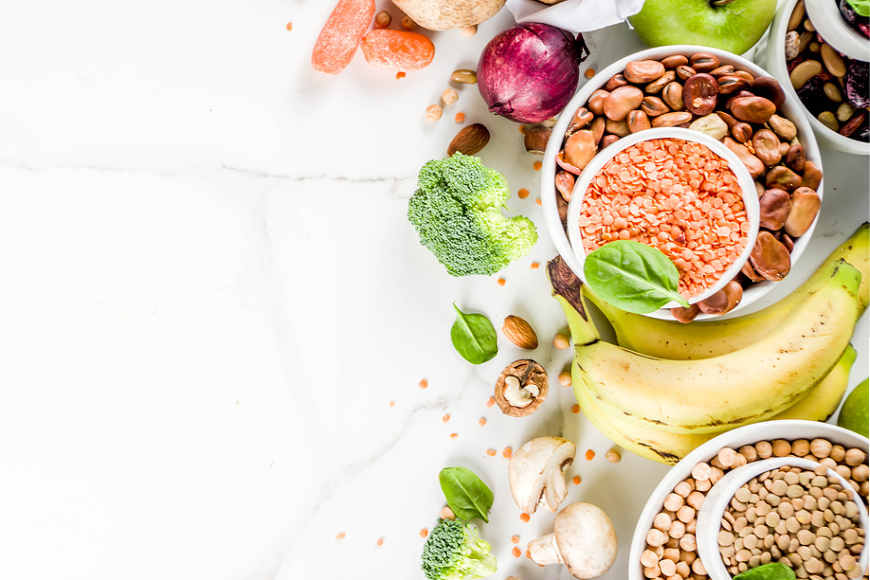 How many plant foods have you eaten this week?
The power of plants can't be ignored and why would we, plants are delicious and provide so many nutrients for multiple functions in our body.
This blog I'm chatting about gut health or more specifically the gut microbiome and how plants are the key to a rockin' microbiome. Am I suggesting vegan, no. Including animal proteins in the diet have incredible benefits for overall health, however, the plant foods should always be the hero of the plate. This is plant-based eating, plants are the shining heros!
What is the microbiome?
"A microbiome is the community of micro-organisms living together in a particular habitat". We often hear about the gut microbiome (it's a hot topic!), however, as humans, we also have a microbiome on our skin, mouth, lungs and vaginal to name a few. And not only do humans have microbiomes, but the soil and even the ocean also have their own microbiome. Pretty awesome hey!
What does the microbiome do?
Involved in immune function
Digestion and bowel motions
Digests vitamins and minerals from our food
Regulating inflammation and weight
Production of serotonin (yes, this is produced mostly in the gut)
What should you feed your microbiome?
Just like you and I, our microbiome needs to be fed, and what foods are best? Plant foods – yep, I'm back to eating the rainbow again! And like us, our microbiome doesn't want to feed off the same foods at every meal. We need to eat a variety of foods to gain diversity in our microbiome. We want a nice mix of bacterias, we don't need all of the same bacteria doing the same job. The key is diversity in the diet.

How many plant foods I hear you ask. 40 plant foods each week should have you pretty covered. Don't freak out, I know that sounds a lot. It actually doesn't have to be a lot of each food, it can be 2-4 tsps of each food. Think of a simple stirfry for example – maybe there is carrot, snow peas, capsicum, bean sprouts, onion, broccolini – you've knocked off six already! Start adding in fresh herbs and spices and you'll nail it.
Red capsicum = 1 plant food but add a yellow & green = 3 plant foods
Sweet potato and white potato = 2 plant foods.
Whole plant foods are the key i.e. pea/rice protein powder doesn't count as plant food.
Categories of Foods to rock your microbiome
Polyphenols – berries, red apples, black grapes, plums, ground linseed, black tahini (click here for my vegemite recipe), pecans, hazelnuts, purple potato, red cabbage, spinach, red onions, broccoli, carrots (all colours), red/black rice, coloured quinoa, black olives, olive oil
Resistant Starch – buckwheat, seeds, unripe (green) banana. Cooked & cooled foods such as potato (potato salad -yum!), legumes, beans, lentils
Pectins – peach, apple, apricot, orange
Mucilage & Gums – slippery elm and acacia gum
Galactooligosaccharides – legumes, pumpkin/sunflower seeds, LSA, broccoli, cauliflower, kale, Brussel sprouts, turnips, mustard greens, cabbage
Fructooligosaccharides – chicory, Jerusalem artichoke, garlic, onion, leek asparagus
Soluble & Insoluble Fibres – psyllium husk, linseed, legumes, lentils, oats
What about probiotic and prebiotic supplements?
Probiotics are transient little creatures, they pass through you, so they are only beneficial if they are being fed by prebiotic-rich foods or specific supplementation.
Buying a general probiotic off the shelf is not the best way to approach building your microbiome. You could be adding in a bacteria that you already have sufficient of yet not addressing the one that is low. Different gut bugs like different fibres/prebiotics, so you may not be providing the nutrients to the gut bugs you want to build by just purchasing any old prebiotic supplement.
Important Side Note…
If you have ongoing digestive issues including diarrhoea, bloating, constipation, abdominal pain, reflux, heartburn, these require further investigation prior to going gung ho or you may find your digestive concerns increase. If any of these apply to you, please contact me so we can discuss the best approach for you.
Happy Plant Eating…Go Rock your Microbiome! x