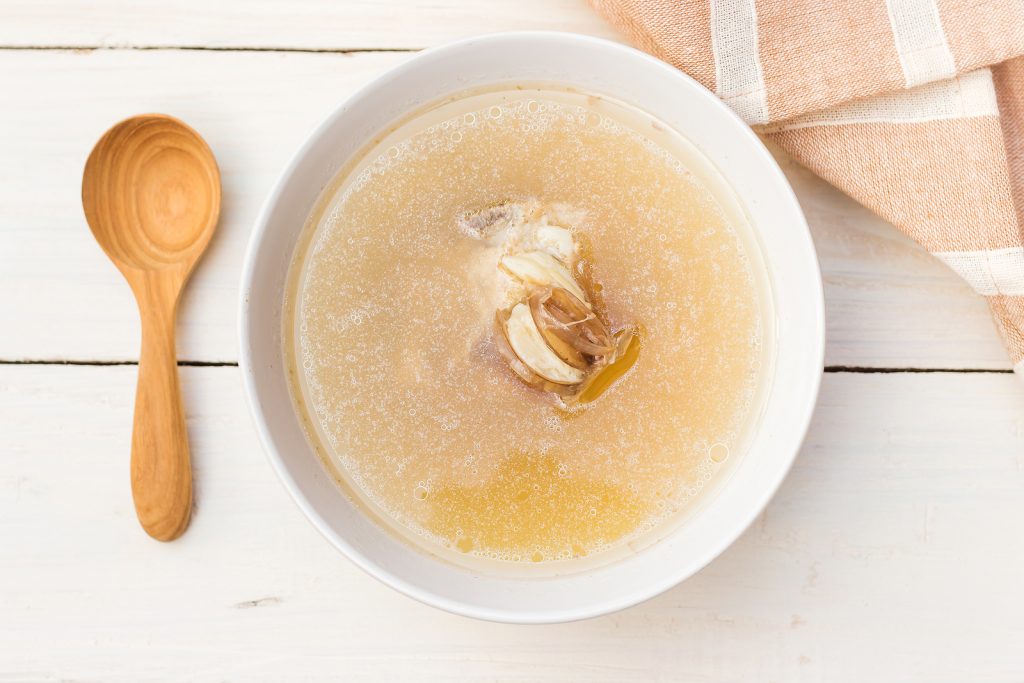 My partner decided he wanted to include bone broth in his diet after reading the benefits and remembering how much he loved it as a child. After experimenting with a few bought products, he decided he would make his own as he loves to cook. So here we have for you, Rich's bone broth.
What is bone broth helpful for?
Bone broth provides a natural source of gelatin which is made up of amino acids such as cysteine, glycine, proline, and glutamine. These amino acids support gut health by improving the quality of the gut lining and decreasing intestinal permeability – "leaky gut" and supporting the release of gastric acid for digestion.
The amino acids and minerals found in bone broth are also supportive of healthy joints and reducing joint pain.
Ingredients
1kg organic chicken frames (ask the butcher to chop into small pieces)
3/4 cup extra virgin olive oil
1 onion
4 cloves of garlic
1-inch stick of fresh turmeric
4 sticks celery
4 carrots
1 leek
Leftover vegetables (all of them – coriander roots, broccoli stalks, greens, we use everything)
Instructions
Roughly chop all vegetables, garlic, and turmeric
Coat the base of a 20-litre stockpot with olive oil – approx 3/4 cup
Add onion, leek, garlic and turmeric and heat until onion is clear
Add remaining vegetables for 3 minutes
Add chicken frames and mix well for 2 minutes
Add 1 cup apple cider vinegar
Place the lid on and steam until the chicken frames look steamed
Fill the pot to the top with filtered water
Bring to the boil and then simmer for 5-9hrs
Gently stir occasionally throughout the simmering time
Drain the broth, bring back to the boil & then simmer for 30-60minutes
Store in the fridge once cooled in an airtight jar
Notes
The longer you allow the broth to simmer, the richer and stronger the flavour. I prefer a gentle flavour around 6 hours of simmering.
If you prefer a premade broth there are wonderful bone broth pastes such as Meadow & Marrow.
Pick the large bones out when draining and blend the rest of the smaller bones and vegetables. We give this to the dogs as a "mousse", they love it!
Richard's disclaimer – he is not a recipe follower & he cooks to taste and feel. It took me about two days to get this recipe out of him!
How to Use Bone Broth
Poach eggs in the broth and serve together
Add bok choy, shallots and noodles to the broth to make a soup
Drink on its own to replace a coffee
Cook your rice in the broth (absorption method)
Mashed Potato using bone broth
Steam and saute vegetables with broth instead of water